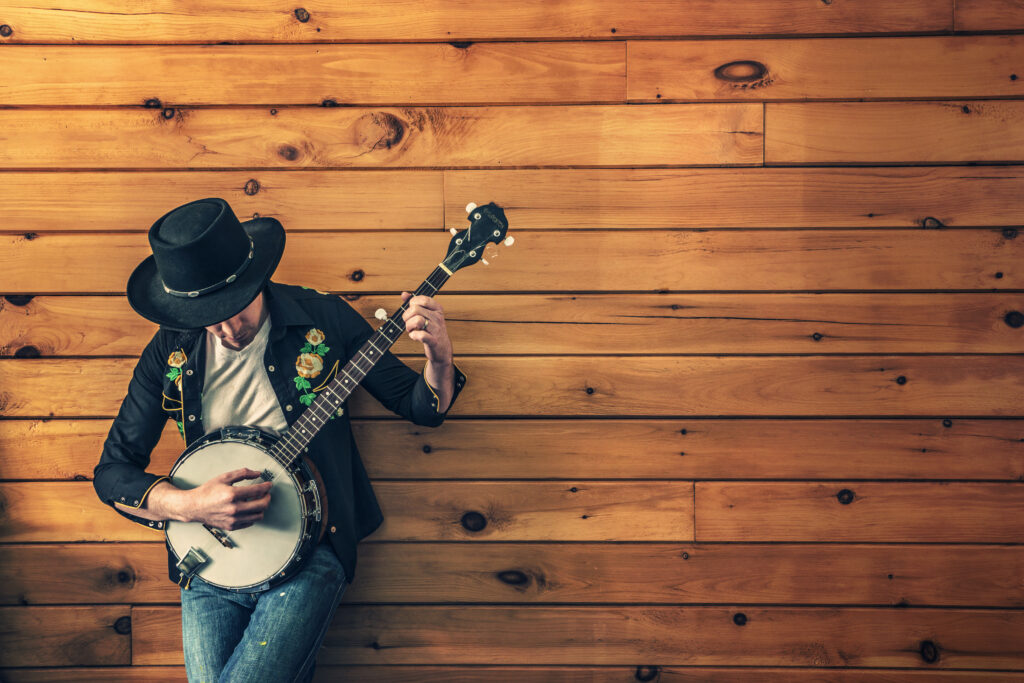 Can Banjo and Guitar be learned later in life?
Yes, it can be learned.
The problem when learning at almost any age, especially later in life, is that we compare ourselves to the best of the best.
· I want to play banjo like Earl Scruggs, but it isn't going to happen.
· I want to play lead guitar and be in a famous band, but it isn't going to happen.
For years I have been a closet player. I would not play in front of people.
I played many songs, but as I now know, I was not playing them well. I certainly was not playing with good timing.
Several years ago, I decided to take a 6-week course in Bluegrass jamming. There were about six adult learners that signed up and showed up for the class. It was a real eye-opener.
We all were in the same boat, adults who never played in front of or with others. It was a tough inner fight to go to the class, stay at the class, and show up for the rest of the classes. I am glad I did. One lady never returned after the first class.
Later as the classes progressed, the instructor said it was interesting to watch us the first couple of sessions. Some people had to be reminded to breathe. That was me for sure.
As we progressed, it became easier. I even led one song and sang a couple of bars. I won a prize for stepping out of my comfort zone.
After the six weeks were complete and we graduated, I felt as though I was ready to go out and jam. The problem was that there were few places to go. I live in Texas, not a lot of Bluegrass jamming going on.
Over the past several years, I have noticed an interest growing in Bluegrass music. I have heard of several jamming groups but never attended.
Recently I moved to a new community; they have a Bluegrass band that plays within the community. They have weekend driveway gigs periodically, and I have met several members of the band. I was invited to jam with a couple of members of the group.
Wow! Even though I had gone to and graduated from a jam class, I was not prepared for this, but I thought I was.
They were very supportive people; they had all been beginners at some point. I had learned only the basics of jamming etiquette. I was still not prepared to jam and stay on time with others, but I was learning. I now attend weekly jam sessions with two of the band players.
I have attended an actual jam session at the county courthouse.
This jam session was an awakening for me. The group meets on the steps of the courthouse every Saturday morning, weather permitting. At my first visit, about 15 musicians showed up, 6 or 7 guitar players, three fiddle players, a dobro, and several other instruments, all there to play bluegrass music.
I was the only banjo that day. I again had trouble breathing but stayed to see how their jam worked. We were in a large circle, some people standing some sitting. I had a stool and sat.
As we progressed around the circle, each person turned to suggest a song for the group to play. I told them, Cripple Creek. I could barely get the melody out of my banjo, but I made it through my first song.
Everyone, there was accommodating and had good words for my continued playing with the group.
I watched and listened and tried to keep my banjo in time with each song I heard. There were many songs I did not know, and I had to sit there and not play. I found this the same problem for other players; I wasn't the only one.
I went back the next week and got through two songs, not my best playing but better each time. This group with varying members has been playing at this venue for over thirty years.
If you are an alone player or closet player, I highly recommend finding others to play along with and jam. Having internet access to songs and practicing along is good but getting out with real people is the way to learn and advance.
I have also restarted the guitar. I played in high school many years ago. I plan to take my guitar to jam sessions soon.
I am now in my early 70s and can't wait to go to my next jam session.
Do you have a later-life learning experience to share?